General Race Info
What: BNP Trail Jam Marathon
Where: Brunswick Nature Park, Winnabow, NC
When: Feb 22, 2020
Distance: Marathon
Course Description: Moderate, technical bike and hiking trails with some easy sections mixed in. Mostly Flat.
Race Website: Click Here
Could It Be?
"Is that him?" I was about 7 miles in and picking my way through the Gator trail at Brunswick Nature Park (BNP) when I caught a glimpse of blue just before it vanished around a bend and into the woods. I had passed 3 runners in the last few miles and was pretty sure only 1 or 2 stood between me and first place. Had I just spotted the leader? This was new territory for me. I am not used to being at the front of the pack. I'm just not that fast.
I think it's fair to say that I am faster than average, but I am not "winner" fast. Top 10 percent? Sounds like a good goal. Win? Don't be silly. But here I was. My mind started racing with all the possibilities and I instantly felt my pace quicken. A glance at my watch confirmed that my heart rate had jumped. "Don't be stupid," I coached myself. "Remember…this is a training run. Ease it back." I started to relax, and my heart calmed. Then, I saw him again. Heart rate through the roof. Crap.
We still had a lot of race ahead of us. The BNP Trail Jam offers 5K, Half Marathon and Full Marathon trail races. I was one of the 35 runners that toed the line for the marathon distance. The 13.1-mile half marathon course uses up just about every inch of mountain bike and hiking trails at the park, and the full marathon requires runners to complete that course twice. Simple enough. Maybe. But when I say "trail," I mean legit trail. We are not talking fire roads, but twisty, turvy, pick up your feet or you will get laid out by a tree root kind of trail.
And for an area that thrives on fast, flat courses near the NC coast, Brunswick Nature Park is about as technical as it gets. So, unless you are prepared for it, 26.2 miles of uneven terrain and stabilizer-trashing quick stepping will take a toll. I am lucky enough to live a handful of miles from BNP and frequent it often, so I knew EXACTLY what we were up against. But I had a sneaking suspicion that some of my fellow runners were not as fortunate, which would explain why I was now passing them after their initial pace proved to be too aggressive.
Target Acquired
I was startled when I heard music off to my right moving in the opposite direction. Is that AC/DC? Guns and Roses? I couldn't quite pin down which 80s rock group was already disappearing behind me, but it only took me a second to understand what it meant. I was close to the leader. Really close. Because I knew that Cape Fear SORBA President Dave Ellegood was the one responsible for those guitar riffs, blaring the music from his bike as he guided the first place runner. And being familiar with the path ahead, I recognized that I would be passing that same spot within the next 50 yards or so.
The trails at BNP snake through the trees in such a way that after clearing a hairpin turn, you may run right back past the section that you just covered, although it's not always obvious because of the thick foliage. I had my confirmation that the blue streak I had seen seconds earlier was in fact the man to beat…and it appeared that I was slowly reeling him in.
It didn't take long before there was a break in the trees, and I got a good look at who I was pursuing. I instantly remembered him from the start corral as he and I were the only ones ridiculous enough to line up in shorts and short sleeves on that crisp 30-degree morning. The blue I was seeing was his hydration pack as it bounced along on the trail in front of me. I was 20 seconds behind and closing, although I knew I was still moving faster than I should be. The adrenaline was getting the best of me and I was concerned I would pay for it later. After a quick argument with myself, I decided I was better off making my move now and then relaxing into the rest of the run at my own pace.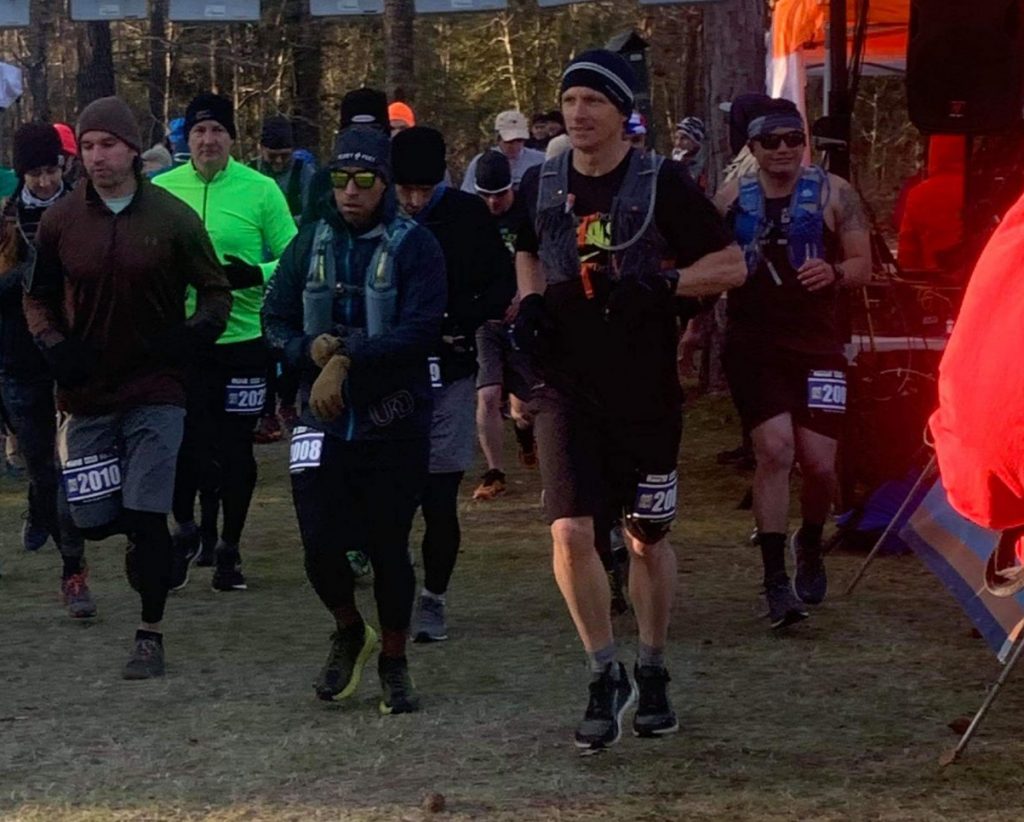 Time To Make My Move
We were about to exit Gator and pop out on the dirt road that led to the next trail head. My grand vision began to play out in my head. I figured I would have a couple hundred feet to turn up the heat and slide into the lead prior to heading into the… "Ummmm… you know you're in second place!?" I looked up to see my wife, Shannon, sitting off to the side of the trail with her phone in one hand and a camera in the other. Her face made it clear that she was shocked to see me. Like I said before, front running is not my typical M.O. "Not for long!" I called out as I ran past with a stupid grin.
I instantly cringed at the bravado, but I wasn't saying it to be cocky. Unless something unexpected happened, I would soon be taking the lead. The real question is whether I would be able to hold on to it. I had run this same race last year and crashed hard at mile 18, leaving 8 miles of run / walking as the strength drained out of my legs. But I was in much better condition now and was cautiously optimistic that I could hold steady to the end, assuming I found an opportunity to get my heart rate back down in the very near future. "Alright…let's do this."
I had been distracted enough by seeing Shannon that I forgot to take advantage of the transition from Gator to the Live Oak trail. But now I was right on his heels…I just needed an opportunity. Mr. First Place was wearing headphones so I was pretty certain he had not heard me yet, although I was making an effort to be as loud as I could be with my breathing and footsteps. Finally, we came to a sharp turn and just as he slowed to avoid skidding off the single-track trail, I gently put my hand on his shoulder and passed on the inside. He graciously let me by, and I turned up the speed to put a little distance between us. I was getting my bearings when I spotted Dave on his bike up ahead and the gravity of the situation hit me…First FREAKING Place!! My mind about exploded.
The Chase Is On
I could win this thing! In fact, I SHOULD win this thing! All I needed to do was get back into a groove, trust my training, and motor along to the finish. I got my breathing under control and after a quick systems check, everything was smooth again. It would just be a matter of time until…wait…what the hell was that? I sensed movement, and for a split second I prepared myself to be eaten by a bear. But then it clicked…a second set of breathing. Hard breathing. I glanced over my shoulder to see the blue hydration pack only a few steps behind. Holy crap! Rather than let me slide by and cruise on to victory, my pursuer had increased intensity and was now sitting on my shoulder. I was instantly concerned. But the concern wasn't for me…it was for him.
While I had been settling in for the long haul, Blue was digging deep. He wasn't about to watch the lead slip through his fingers. I admired his tenacity, but felt certain that unless he let up, he would be redlining in no time. And blowing up with roughly 17 miles to go in a race would be a nightmare, especially this race. After scrolling through the options in my head, I decided to try and give him the lead back.
I know, I know…what was I thinking, right? My logic was that I now felt confident I could outlast him in the long run, and by letting him pass, he could set a comfortable pace for both of us. I would cruise along behind him until he ran out of steam and then jump ahead again at the appropriate time. Hopefully he wouldn't blow up and I could maintain my originally planned training effort. It was the perfect plan…except he wasn't playing along.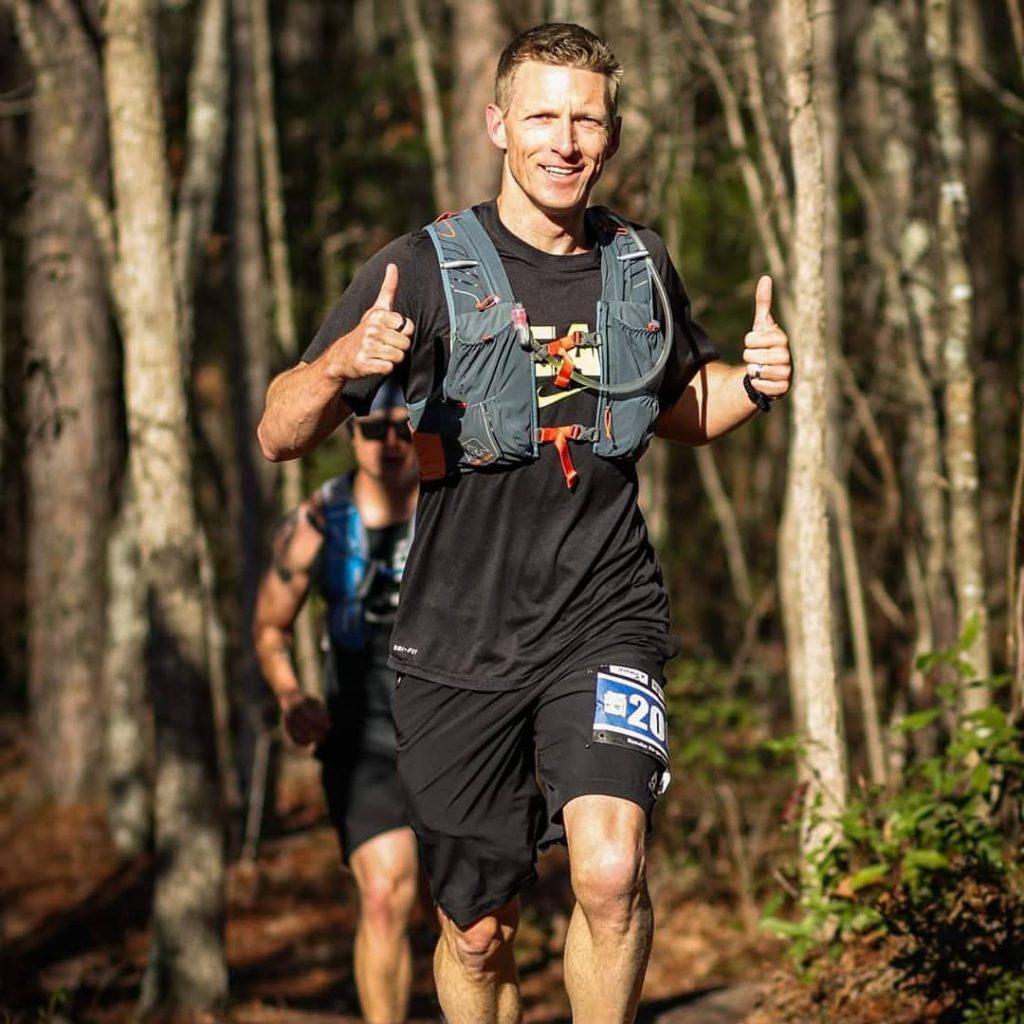 Let's See What I Got In The Tank
When he opted not to pass after given the opportunity, I only had one option left. Time for the mental games. We soon came to a steep uphill pitch and I went on the offensive. I raced up the trail as fast as I could and did my best to make it look as effortless as possible. The surge was a risk, but it was a calculated effort…and it worked! After a few minutes of keeping my foot on the gas pedal, I glanced over my shoulder and Blue was nowhere to be found. It took a few seconds to find my rhythm again, but once I did, I was finally able to relax into the run and get out of my head. Time to enjoy the beauty of the trails.
To make a long story short, the rest of the race was pretty uneventful. I had to navigate through some serious water and mud, but this was trail running…it would be disappointing to not encounter those. I came through the first lap at 2:08:24 and noted that the 13.1-mile course was more like 14. Strangely enough, I was pleased that we would be completing a 28-mile marathon as I viewed more time on my feet as a positive.
I ran out of liquid calories around mile 22, just in time to drop my pack and my shirt off with Shannon, who had been chasing me around all day to get some awesome pictures. Fatigue started to set in between mile 23 and 24, but I was able to manage it well by simply backing off my pace a little bit. I pounded some tailwind prior to mile 25 and came close to puking it right back up in the bushes before the nausea passed and I pressed on. And finally, I engaged in some pretty serious mental negotiations in the final miles to ensure I finished strong.
The Home Stretch
I had just passed mile 27 and was talking myself into gutting out the final trail when I was waived directly to the finish line instead. The Go Time team had realized the course was long and had made the decision to shorten the final leg. What a gift! I felt a surge of energy as I high-fived the RD just prior to running across the finish at 4:21:16 and capturing my first ever overall race win. In fact, this was my first ever podium at all! I got my race medal, kissed my wife, posed for some pictures, and then gladly took a seat to wait and see who came in behind me. It was incredible moment, and one I will never forget.
27 minutes later, 2nd place came into view and I wasn't surprised. Kaye Sitterley had been visiting from Boulder, CO and jumped into the race last minute as part of her 50K training…yeah…tough as nails. During the start of my second loop, I had caught a peek at the runners behind me and even though Kaye was in 5th place at that point, she looked strong and sure as she chased down the guys in front of her.
And Blue? Turns out he was pretty tough as well. He pushed through to hold on to 3rd place, coming in about 6 minutes behind Kaye. I had expected him to really fade but when I found out he was a Marine instructor, I realized I should have known better. He had a rough race, but the word "quit" was not in his vocabulary, and he earned my respect because of it.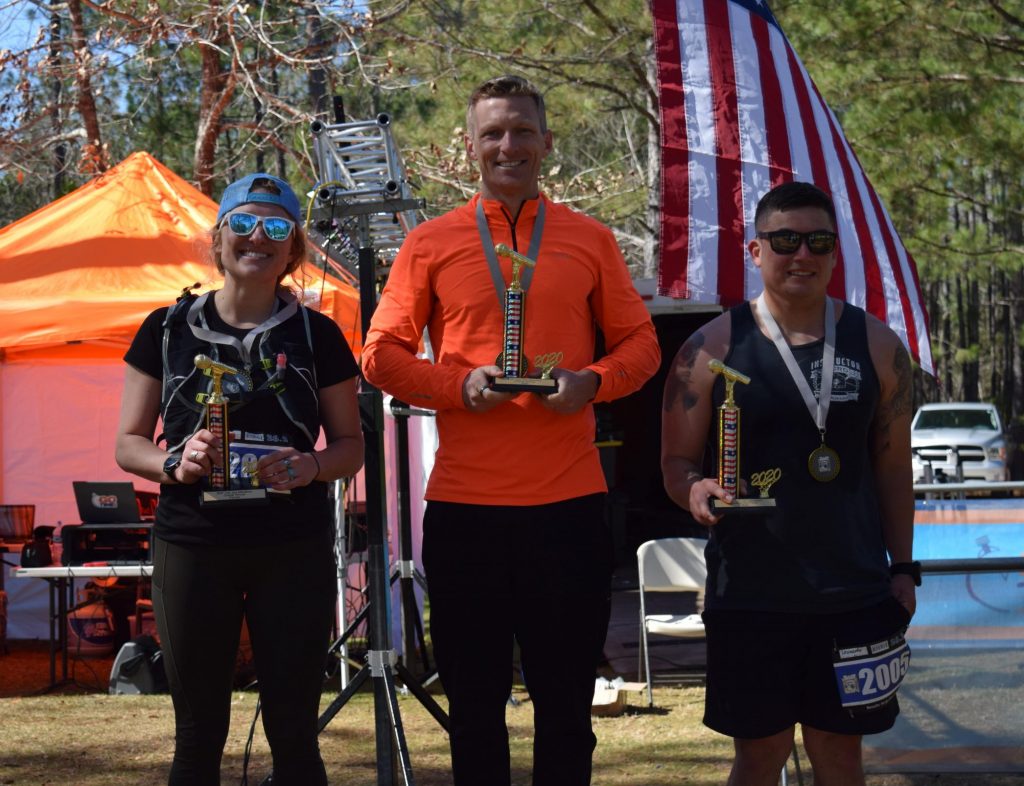 The Big Take-Away
In summary, it was an amazing day.  And although I took several lessons away from that race, there is one that absolutely stood out to me.  Show up.  Whether you think you can win or not, show up.  I did not win the Trail Jam because I am the fastest trail runner in the area.  I won because I happened to show up when they did not.  There will always be someone better than me in every aspect of life.  Faster, stronger, smarter, richer, more charismatic…but if I am willing to go after opportunities regardless of whether I believe I am the best or not, then sometimes I will win just because I had the guts to show up and run the race.  Because I was willing to open the door and attempt to walk through it.  And that is a lesson that I hope I never forget!    
Did you enjoy this post? Have recommendations for future race reports? I would love to hear from you. Drop a comment below or hit me up on Instagram at @go_be_awesome.
You can also shoot us an email at theultrarunningguys@gmail.com. And don't forget to head over to our Video and Blog pages for more content!